Extended Stay Studios
& Guest Rooms
SERVICE & AMENITY UPDATE:
Due to state mandated policies surrounding COVID-19, please call the hotel directly for all available services and amenities.
Ready for Your Extended Stay!
 At HomeSpring Inn & Studios, we offer a great value, as well as a convenient location. We have a well-appointed, clean facility for both short- and long-term stays. We are ideally situated close to many local attractions. We are pet-friendly, family-friendly, and work friendly, and look forward to welcoming you for your stay.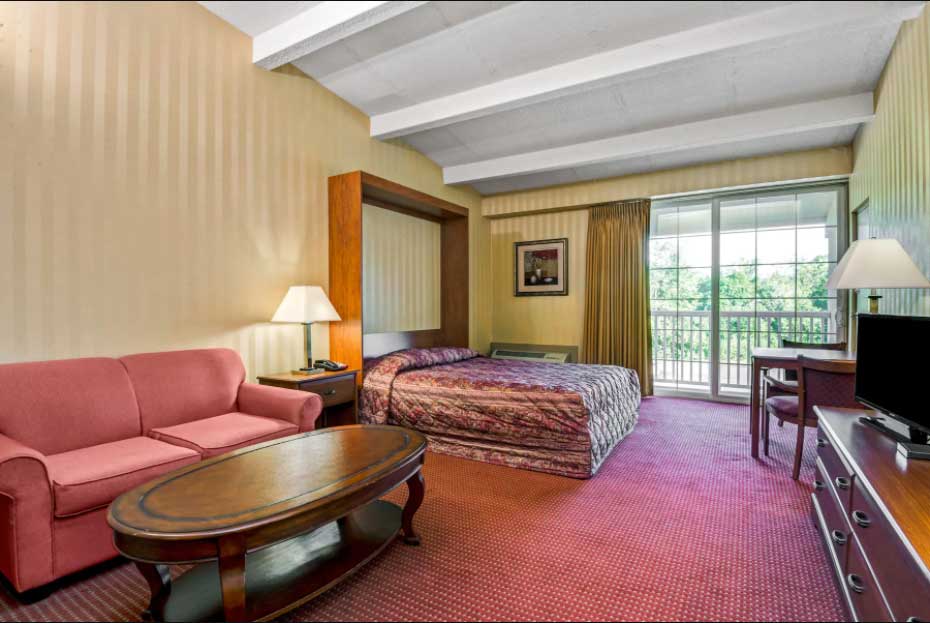 Introducing our newly redesigned (or reimagined) 350sf studio with plush King bed and sleeper sofa. Features include a fully-equipped dine-in kitchen with over-the-range microwave, stainless refrigerator/freezer, and mobile table built on luxury vinyl plank flooring. This smartly-furnished room also includes a work desk and chair, coffee table, a 43″ LED TV, cable channel line-up with three HBO channels, convenient K-cup coffee maker, and digital PTAC heat/cool unit for climate control. The full bathroom is complete with shelving, hassle-free amenity dispenser, and adjustable LED nightlight. An oversized window slider allows for an abundance of sunshine, and provides access to a private, furnished balcony. Additional amenities include clothes rack, iron board, iron, and hair dryer. Free WiFi is available throughout the building.
Complete Amenities:
King Bed
Sleeper Sofa, Coffee Table
Furnished Balcony
Induction Range and sink
Cookware, Plateware, Utensils
OTR Microwave Oven
Full-Size Refrigerator with Bottom Freezer
Adjustable Kitchen Table with Seating
Climate Control
43″ LED TV
Alarm Clock with Wireless Phone Charging*
K-Cup coffee maker
Condiment Tray
Desk & Chair
Clothes Rack
Slippers
Hair Dryer
Ironing Board
Iron
*If phone supports Qi charging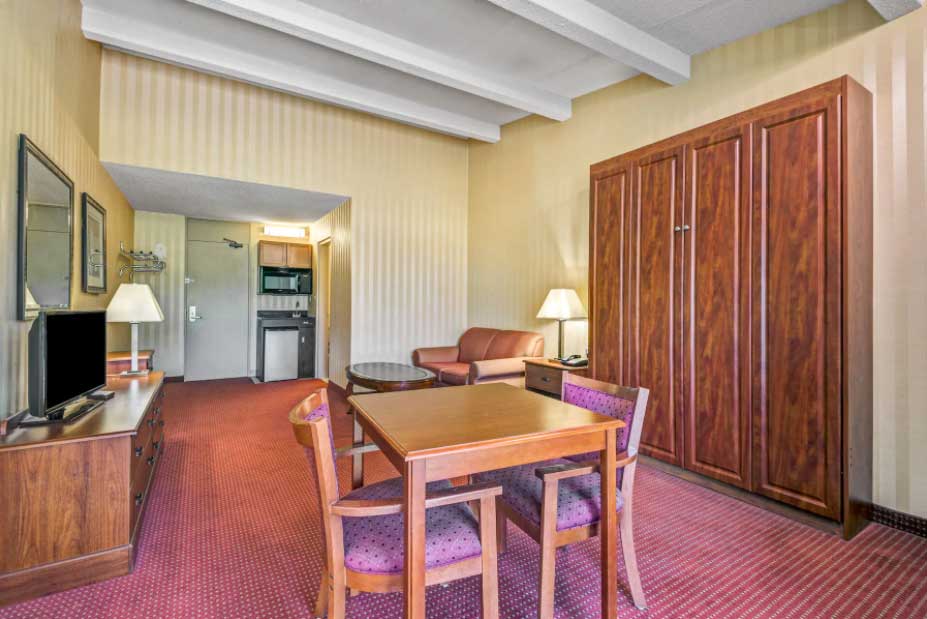 • Approx 350 sq ft
• Sleeps 1-4 people
• Fully-equipped kitchen with refrigerator, stovetop, & microwave
• Cooking and dining utensils provided
• Spacious living area with sofa bed
• In-Suite workspace
• Well-defined sleeping area
• Plush bedding and linens
• Upgraded and modern lighting
• Free Wi-Fi
• Flat-screen HDTV
• Furnished balcony (on all 2nd floor rooms)
• In-room gourmet coffee
• Bathroom amenities (premium shampoo, soap, and lotion)
Photos
HomeSpring Inn & Studios Photos
I would like to thank the entire staff at this property for the most enjoyable, comfortable stay.  I left my laptop upon my departure, Gil, FedEx it to me. I ask you, where else has anyone stayed that Management would take upon themselves an endeavor that requires human decency, spirit of good will not to mention taking time out of their busy day to to make mine… you all that made my day, made my stay! Tina P, Indianapolis, Indiana
Very friendly staff, as reported in reviews. Room very clean. Location is very convenient to eateries and gas along with shopping, and getting on the expressway to get to your destination. Price is very affordable, and we plan on staying here next year when we visit.
Thomas H, Kewanee, Il
If you are visiting Hartford, Wethersfield or any town surrounding Rocky Hill, CT this is the place to stay. Great price, clean rooms and a staff that will bend over backwards to satisfy your needs. There is a wide selection of upscale, medium priced and fast food restaurants in the area. In addition, there are many big box as well as mom and pop retailers in the neighborhood… This is my go to hotel every time!
Michelle G, Nashville, Tennessee
If you are looking for an excellent place to land for a few nights with clean rooms, great staff, convenient location and attractive rate ….. this is the place!! Have stayed at this hotel many times for business purposes. Nothing fancy but solid in every other way and the staff will go out of their way to make your stay comfortable.
Sightsee1889
Guest Laundry (Coming Soon!)
Iron, Ironing Board, & Hairdryer in Rooms
Two On-Premise Restaurants
Balconies on 2nd Floor Rooms
Please Note: Our facility does not have an elevator. If you require accomodations or assistance, please contact us. We would be happy to help you select the room or rooms that meet your needs.
CHECK-IN & CHECK-OUT
Check-in time for arriving guests begins at 3 p.m. Check-out time for departing guests is 11 a.m.
For guests staying fewer than 7 nights, a valid credit card is required for payment.
CANCELLATION POLICY
Reservations must be cancelled by 6:00 p.m. local hotel time on the day of arrival, or the first night's stay (at quoted rate plus tax) will be charged as a No Show Fee to the credit card holding the reservation.
Advanced Purchase (AP) reservations: Guests who cancel more than 24 hours after their original time of booking, or fail to show, will forfeit their nonrefundable advance prepayment equal to the total cost of the reservation (including tax).
PET POLICY
Pets are always welcome at HomeSpring Inn and Studios!
Minimum of two pets are allowed in each suite or room.
A $25 (+ tax) per day, non-refundable cleaning fee for the first month (not to exceed $150 + 

tax), payable the first night of your stay and is charged at check-in.

Each month thereafter is a $10 non-r

efundable fee (+tax) per day for the first 5 days of each month (not to exceed $50 + tax per month, per 

pet). This fee is to cover the cost of cleaning and fumigating guest room. Service animals will be exempt 

from this charge.
Height and length restrictions apply: pets can be no longer than 36 inches and no taller than 36 inches. Larger, or more than two pets requires property manager's approval.
Please contact the property for questions.
HOUSEKEEPING SERVICE
Our promise is to provide you with a fresh, clean room. We also take our commitment to the environment seriously and strive to freshen up without wasting our natural resources.. Towards this common goal, housekeeping services are scheduled based on the number of nights you will be staying with us.

For 8 or more night stays: One "full service" housekeeping is provided each week. Additional full or refresh services are available as outlined below.

For 1-7 night stays: Fresh towels and linens are available at the front desk as often as needed

Full Service (provided weekly): Dusting, vacuuming, changing linens and towels, emptying trash, cleaning of bathroom and kitchen, and replenishing soap and toilet paper if needed.
Additional Full Service can be purchased at $10 per service.
Refresh Service (optional service): Replacing soiled towels, emptying trash, replenishing soap and toilet paper if needed, and making bed with existing linens. Refresh Service can be purchased at $5 per service.
*Dishes are not washed during either service.
Visit New England in Style
We Have Vacancy!
Summer is a great time for travel in New Enlgand. Whether traveling solo or with your family, for work or for some time away, we've got a room for you.